Product Information
Made in Viet Nam
Brand: Chef Studio
Line: Teak cutting board 
Dimensions (LxWxH): 15.7×0.8 in / 40×2 cm
Weight: 0,765 kg
Material: Teak wooden
Function: Make food trays and decorations. You can use it to make a base for cutting, slicing food gently, etc.
Note: After each use, clean it with water and store it in a dry place.
Detailed Of Teak Chef Studio Round Wooden Tray 15.7×0.8 in
Teak Round Wooden Tray of 15.7×0.8 in of Chef Studio brand is entirely made from Teak wood. This product will be the perfect choice for the needs of food decoration to use for luxurious parties or gifts for friends. 
Benefits Of Teak Chef Studio Round Wooden Tray 15.7×0.8 in
As a new product on the Vietnamese market, Teak wooden trays have earned the trust and choice of consumers because of their outstanding benefits, namely: 
Superior moisture resistance to control the cutting board from mold and termites;

Beautiful for a long time, have a long life and glossy wood grain;

Diversity designs, highly aesthetic, fit for any kitchen design.

You can use teak wood cutting boards for both cutting needs and as decoration for serving at luxurious parties. Furthermore, you can use this product as a benevolent gift;

Employing the technology of grafting tree heads jointly, which is environmentally friendly;

Easy to clean and maintain.
The high amount of natural oils and silica in Teak wood creates a natural, supple hardness that won't destroy your knife edge. In particular, Teak wood is more resistant to scarring than other woods but will still leave scars when chopped strongly or used regularly.
How To Use And Maintain The Teak Chef Studio Wooden Tray 
Notes Using Teak Chef Studio Wood Tray 
According to the recipe for preserving wooden kitchen tools, you should not immerse the tray in water, which will cause the tray to soak in water, leading to easy cracking.

After use, clean the tray and dry them.

Storage: Store in a cool, dry place after use.

How to clean: Do not use a dishwasher to wash. Moreover, wash it with a sponge or dry it with a clean towel.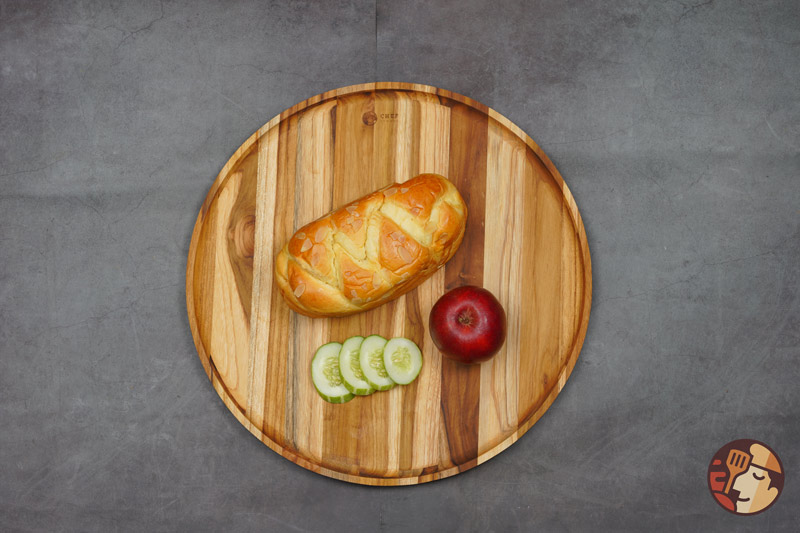 Teak Chef Studio Wooden Tray Cleaning Tips
It is necessary to use warm and hot water when cleaning the tray to obliterate bacteria; 

It is best not to soak the tray in water for too long;

You should regularly use olive oil to clean the tray. This step will help the tray to heal scratches on the surface and make it more colorful.
Feel free to contact Chef Studio for the most specific advice. 
Chef Studio is proud to be a reputable manufacturer of Teak Wood Cutting Board products in Vietnam.