Product Information
Made in Viet Nam
Brand: Chef Studio
Line: Bamboo cutting board
Product Dimensions: 15.7×11.8×0.59in / 40x30x1.5 cm
Weight: 1.6lb / 0.73 Kg
Material: Bamboo
Function: Use to cut, use food to decorate…
Note: Do not use with dishwasher, and clean with warm water. Moreover, it should store in a dry place.
Detail About Chef Studio Bamboo Cutting Board 15.7×11.8×0.59in
Bamboo is carefully chosen and undergoes a production process at high temperatures and tremendous pressure, including the following stages: steaming, drying, and applying glue,… Then bamboo cutting boards are created with firmness, strong, durability, and safe for users.
The bamboo cutting board has natural, bright colors and no dyes, so it is safe for consumers' health. Furthermore, the Chef Studio bamboo cutting board has received the highest certificate of hygiene and safety, granted by the US FDA and LFGB of Europe.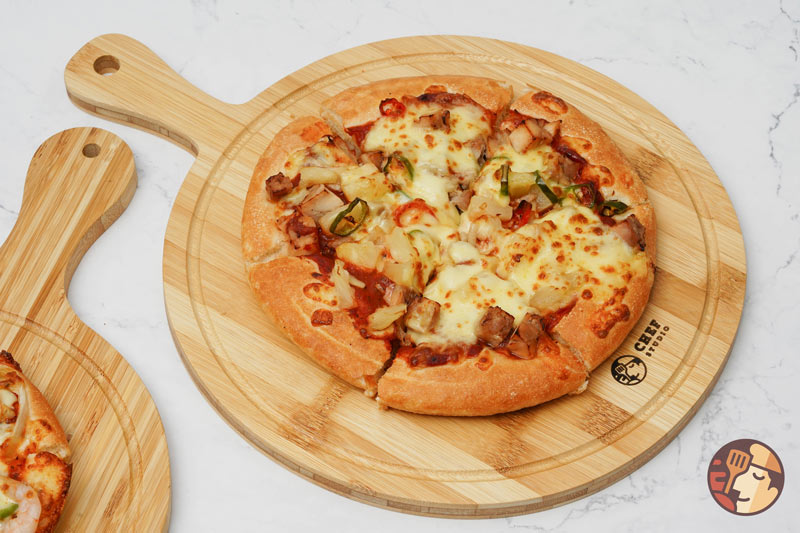 The bamboo cutting board is subjected to 3-layer pressing technology in the same direction, sanding P320, and finally covered with a layer of paint to increase the gloss and keep the cutting board's color longer. The hardness of the bamboo cutting board is up to 4.1 kg/mm, creating certainty during use.
The ability of the cutting board to absorb moisture is low, only about 0.35%, and the humidity is from 8 to 12%, so harmful bacteria can hardly penetrate. Bamboo cutting boards help ensure health, especially suitable for families with pregnant women and young children because of the antibacterial ability of natural bamboo cutting boards.
The bamboo cutting board has a circular design with a modern and luxurious handle. People can freely choose many ways to decorate food at parties.
The Benefits Of Chef Studio Round Bamboo Cutting Board With 15.7×11.8×0.59in
The bamboo cutting board is a product many trusts, with reasonable prices, criteria, and outstanding features.
Safe For Consumers' Health
Bamboo cutting boards have natural antimicrobial properties, making it difficult for bacteria or fungi to penetrate the cutting board. Natural bamboo materials are environmentally friendly and do not contain harmful substances affecting consumers' health.
Bamboo is a sustainable, environmentally safe renewable resource. Therefore, using bamboo cutting boards is also a way for consumers to improve the health of everyone in the family and protect the environment.
Affordability
In Vietnam, bamboo is grown mainly in Hoa Binh and Thanh Hoa provinces, so the cost of transporting raw materials for production is more economical. Hence, bamboo cutting boards are distributed to consumers at preferential prices.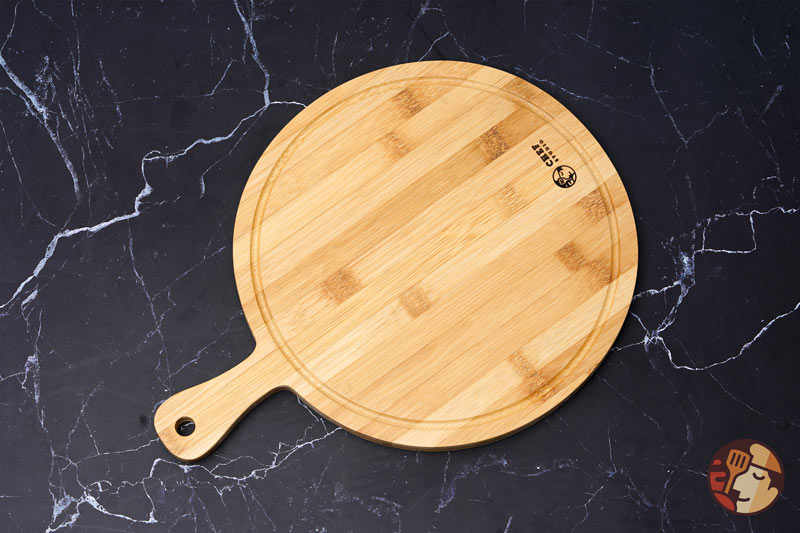 Easy To Use And Clean
Bamboo is inherently quick-drying, non-sticky, and minimizes leaving small chips that harm hands. Most bamboo cutting boards are thin and light, making them convenient.
The cutting board has the advantages of being a waterproof surface and hard that is easy to clean and quickly draining after cleaning. The cutting board has a circular design with an aesthetically pleasing, modern, and luxurious handle. It is specially combined with classic bamboo materials familiar to Vietnamese people.
How To Clean And Maintain
+ After using the cutting board, you should clean the cutting board with a soapy solution diluted with warm water to eliminate harmful bacteria to the maximum.
+ Then dry the cutting board with a soft cloth.
How to store: Bamboo cutting boards should be stored in a cool, dry place, which limits the penetration of harmful bacteria and mold.

Cleaning tips
+ Avoid leaving the cutting board in exposures to water for too long.
+ Do not use a dishwasher to clean or dry bamboo cutting boards at high temperatures.
+ If you use a cutting board regularly, use sandpaper to clean the cutting board about once a week, then use vegetable oil or lemon juice to deodorize the cutting board.
+ Use a separate cutting board to cut and slice cooked and raw food, avoiding the risk of cross-contamination.
The circular Chef Studio bamboo cutting board has a unique design and adds many outstanding features. To maintain the durability of the cutting board, you need to pay attention to how to clean and preserve it so that the bamboo cutting board can promote its uses.