Product Information
Made in Viet Nam
Brand: Chef Studio
Line: Teak cutting board 
Dimensions  (LxWxH): 20x20x0.98 in / 50x50x2,5 cm
Weight: 9.03 lb / 4,1 kg
Material: Teak wooden
Function: Cutting, slicing, chopping, and making food trays
Note: After each use, clean it with water and store it in a dry place.
Details Of Teak End Grain Wooden Cutting Board With 20x20x0.98in
Teak Chef Studio square end grain wooden cutting board 20x20x0.98in is made from Teak wood which has high durability and resistance to scratches and warping. Besides the high quality, it has a unique and luxurious design and color.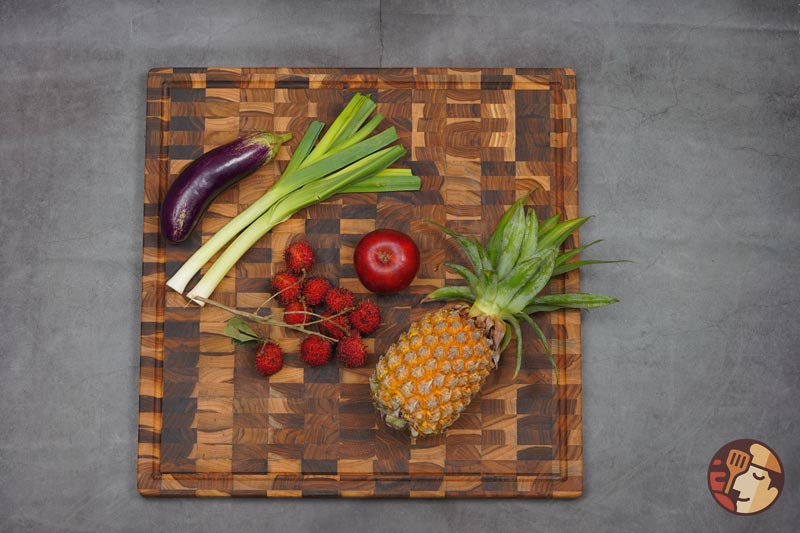 Following the trend, the wooden cutting board is a prevalent product when it meets the needs of modern users: The dish is not only delicious but also needs to be beautifully decorated. The artful and skillful decoration of dishes contributes to turning them from simple and lifeless to more delicate and lively. Thereby, it stimulates the taste buds, which gives the user a feeling of wanting to "explore" the food.
The Teak Chef Studio square wooden cutting board 20x20x0.98in is perfectly designed for simple everyday chopping. It can be used flexibly as a serving tray for luxurious and cozy parties. 
Advantages Of Teak Square End Grain Wooden Cutting Board 20x20x0.98in
Teak wooden cutting boards have been chosen and trusted by many customers, despite the recent penetration of the Vietnamese market. Thanks to many incredible advantages, which are:
Durable, rugged, good resistance to scratches and warping by containing many natural oils.

Because of outstanding moisture resistance that avoids mold and termites.

Good force resistance, knife-friendly.

More resistant to scarring from cutting than other woods.

Long life, shiny wood grain. In particular, it will be more and more beautiful for use during a period of time.

Diverse designs, highly aesthetic, suitable for all kitchen spaces. 

In addition to serving the needs of cutting and chopping. Teak wooden cutting boards can also replace trays and plates. It is also used to display food and cater for luxurious parties or gifts for friends.

Using the technology of grafting tree heads together, which is environmentally friendly.

Easy to clean and maintain.

It contains a high amount of natural oil and silica, which gives the cutting board a natural hardness and toughness. Hence, it does not destroy your knife edge. Another notable advantage is that Teak is more resistant to scarring than other woods, whereas it will still leave scars with regular use or heavy chopping.
How To Use And Maintain Teak Chef Studio Wooden Cutting Board
Notes Using Teak Chef Studio Wooden Cutting Board
Do not soak the cutting board in water that leads to easy cracking.

The cutting board should be cleaned and dried after each use.

Storage: Store in a cool, dry place.

How to clean: Wash with a sponge or clean towel to dry the product. Do not use a dishwasher.
Teak Chef Studio Wooden Cutting Board Cleaning Tips
It is recommended to wash with warm, hot water to remove 100% of bacteria.

Do not soak the cutting board in water for too long.

You should regularly oil the cutting board with olive oil to help the cutting board heal scratches on the cutting board and deepen the color.

Use one cutting board for raw food and 1 for cooked food to ensure hygiene and safety.
Don't hesitate to contact Chef Studio to order and get detailed advice.
Chef Studio is proud to be a reputable manufacturer of Teak wooden cutting boards in Vietnam.