Solid teak wood cutting board – The top choice for consumers
Solid teak wood cutting board – The top choice for consumers
Solid teak wood cutting boards possess elegant wood grain patterns, along with exceptional advantages that no other type of cutting board has. Particularly, this line of cutting boards is highly popular in European, American, and global markets. Let's explore what makes these cutting boards so special in the following article by Chef Studio!
What makes solid teak wood cutting boards special?
Popular in Western countries
As one of the leading markets in using teak wood cutting boards, they are increasingly being used in various places. This is primarily due to their outstanding characteristics: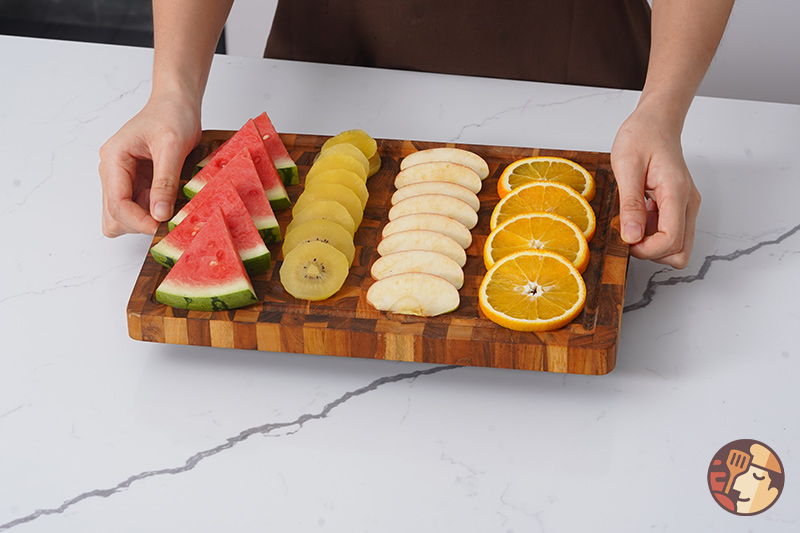 Chef Studios teak wood cutting board brings a fresh and unique experience for consumers
They are the most popular type of cutting board in Western markets.
They have high resilience, making them suitable for cutting bones and meat.
They do not create a slippery surface during food preparation.
They have high antibacterial properties.
They are friendly to knife edges.
Safe for users
Teak cutting boards are considered user-friendly. They contain natural silica oil that helps prevent excessive moisture, limiting mold, mildew, and bacterial growth. Due to these properties, solid teak wood cutting boards are the top choice for consumers.
Versatile use
With their elegant and eye-catching wood grain patterns and exquisite designs, teak wood cutting boards can also be used for food presentation. Moreover, the longer they are used, the more beautiful and glossy they become.
Considerations when purchasing solid teak wood cutting boards
Teak wood cutting boards are available in various designs and price ranges, which can sometimes confuse buyers who are inexperienced in using them. Lack of experience and evaluation criteria can lead to situations where buyers unknowingly purchase low-quality teak wood or boards with poor craftsmanship and rough surfaces.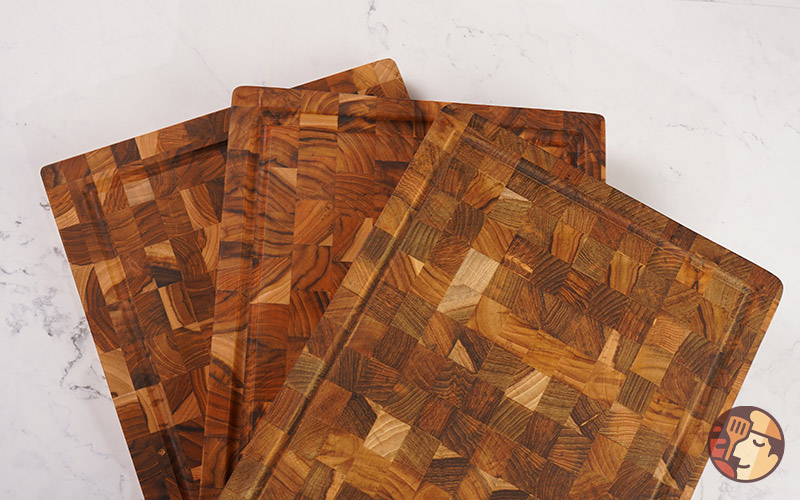 Chef Studio offers a wide range of different teak wood cutting board designs
Size - Intended use
Currently, Chef Studio offers popular sizes of teak wood cutting boards, such as:
Teak wood cutting board: 25x35x2.5cm
Teak wood cutting board: 25x35x3.8cm
Teak wood cutting board: 28x40x3.8cm
These sizes cater to a variety of consumer needs, from preparing fresh ingredients and slicing bread to processing cheese or charcuterie. They come with concealed handles for both aesthetics and convenience during transportation. The solid teak wood structure ensures durability, knife-friendliness, and minimal wear and tear over years of use.
Price range
The price of teak wood cutting boards may vary based on size and design, but in general, they tend to be higher compared to other types of wooden cutting boards such as rubberwood or acacia.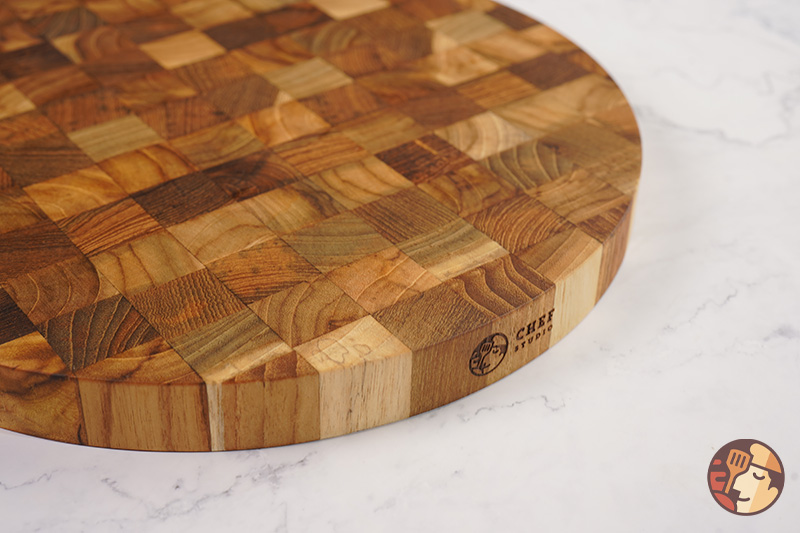 Not only is it highly aesthetic, but Teak cutting board is also very safe for users' health
Choosing a reputable and quality source
It is advisable to select suppliers of teak wood cutting boards with clear origin and quality certification to ensure the purchase of high-quality products.
Chef Studio specializes in manufacturing and distributing cutting boards made from natural teak wood. Their teak wood cutting boards come in various designs and sizes.
By choosing Chef Studio, customers can find their preferred teak wood cutting board with excellent quality at a reasonable price.