Thông tin sản phẩm
Made in Viet Nam
Brand: Chef Studio
Line: Bamboo cutting board
Dimensions (LxWxH): 34x24x1.5 cm
Weight: 0.85 kg
Material: Bamboo
Function: Use to cut, use food to decorate…
Note: Do not use with dishwasher, and clean with warm water. Especially it should store in a dry place.
Information About Chef Studio Rectangular Bamboo Cutting Board 13.4×9.4×0.59in
Bamboo cutting boards are widespread because of their environmental friendliness and safety for health. The dimension 13.4×9.4×0.59in cutting board has an extensive design to help customers easily cut and slice food.
The bamboo cutting board has a convenient handle design for users to use and reserve easily.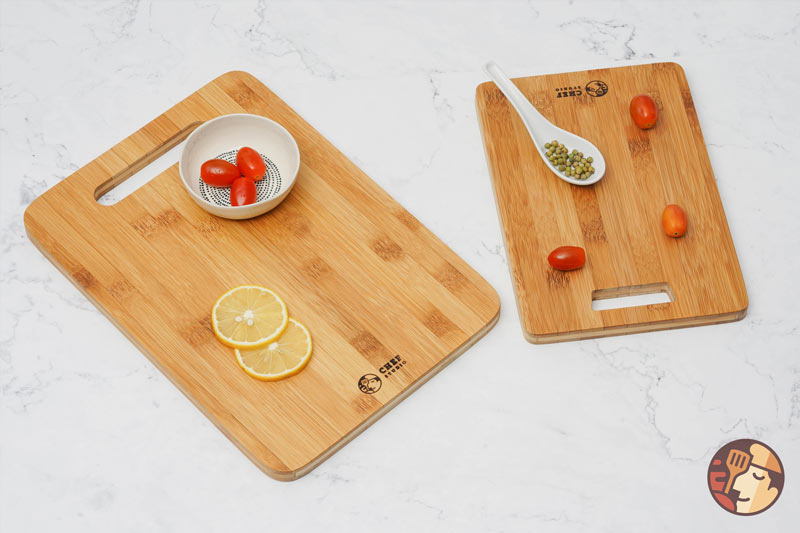 Through many stages of inspection and review, production materials are carefully selected from bamboo trees over three years old and meet FSC benign standards. In particular, the products are all certified for food safety and hygiene (FDA certification of the US and LFGB of Europe).
Using modern heat pressing technology under high pressure helps it has a high hardness of up to 4.1 kg/mm, with three layers of firmly pressed bamboo. Before being pressed, bamboo has been thoroughly absorbed and dried. The final processing stage is roughing P320 on the cutting board and then applying glue.
The cutting board surface is safely covered with glue. The glue layer is imported from leading companies and has a safety certificate for consumers' health. Using glue helps limit moisture, increasing the aesthetics of the cutting board.
Bamboo cutting board has a moisture content of 8% – 13% and a water absorption rate of 0.35%. That is why it can limit the growth of bacteria and fungi that affect consumers' health.
Chef Studio bamboo cutting board is produced with friendly material that is entirely safe for everyone, especially for families with pregnant women and children.
The cutting board has a thickness of 0.59 in, so it is suitable for cutting and slicing foods such as vegetables, tubers, fruits, …
The Advantages Of Bamboo Rectangular Cutting Board 13.4×9.4×0.59in
The eco-friendly natural bamboo cutting board is gradually becoming a new consumer trend. In addition to the suitable price criterion, the rectangular bamboo cutting board also has outstanding advantages.
Safe For Consumers' Health
Chef Studio bamboo cutting board ensures both clean standards – clean ingredients and a closed production process.
The bamboo material is benign FSC origin and BPA-free, and the glue layer on the cutting board's surface is safe. It especially met the highest hygiene and safety certification standards of the US FDA and LFGB in Europe.
Bamboo cutting boards have characteristics such as low moisture absorption, limited warping, and cracking. They all help prevent bacteria from existing in the slots and crevices on the cutting board. The bamboo cutting board is highly antibacterial and suitable for families with pregnant women and young children.
Bamboo is inherently environmentally friendly and hard without being porous, providing more safety. Therefore, harmful bacteria can hardly penetrate.
Affordability
Bamboo is grown domestically, mainly in Hoa Binh and Thanh Hoa provinces, so transportation costs are cheaper. Hence, bamboo cutting boards are distributed to consumers at a more favorable price.
Easy To Use And Clean
Bamboo is inherently quick-drying, non-sticky, and minimizes leaving small chips that harm hands. Most bamboo cutting boards are thin and light, making them convenient.
Its hard surface and waterproof ability make cleaning easy and dry quickly.
How To Clean And Maintain Bamboo Cutting Boards
– Storage: Store in a cool, dry place. Furthermore, it should wash and dry after use.
– How to clean:
+ After the cutting board comes into exposure to fresh food, the cutting board should be cleaned immediately. In addition, wash it with soap and warm water.
+ Then wipe the cutting board with a soft, soft cloth.
– Tips:
+ Do not let the cutting board soak with water too long because it may appear cracked.
+ Do not use the dishwasher to clean the bamboo cutting board.
+ Do not use high temperature to dry bamboo cutting board or use the microwave.
+ If the cutting board is used normally, you should use sandpaper to clean it once a week. Then, use vegetable oil or lemon juice to deodorize the cutting board.
+ Should use a separate cutting board to cut cooked and raw food to avoid intrusion.
Bamboo cutting boards have high resistance to drugs and little water absorption. However, it will spread mold very quickly, it happens on the bamboo cutting board. Therefore, you must pay attention to managing and cleaning the cutting board for long-term use.